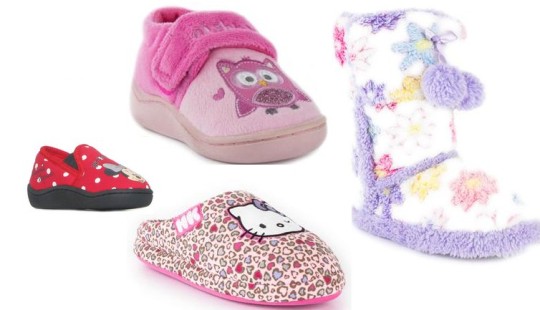 Shoe Zone are selling girls slippers for £4.99 delivered, with four options to choose from.
I don't know about where you are, but tonight I shut the doors and popped a blanket on my lap, granny style!
It breaks my heart to say, but I think it's time to start pulling out the slippers and putting away the flip flops.
There are loads of shoes to choose from, it being Shoe Zone, after all, but the slippers that caught my eye are the Girls White and Lilac Soft Flower Bootie Slipper, the Minnie Mouse Girls Polka Dot Slipper in Red,  Hello Kitty Girls Pink Heart Mule Slipper and the Girls Glittery Owl Velcro Slippers in Pink.
Between them they're available in sizes small 4 to large 4 and at under £5 delivered, they're lovely and will make for warm feet and cozy toes on cooler evenings.