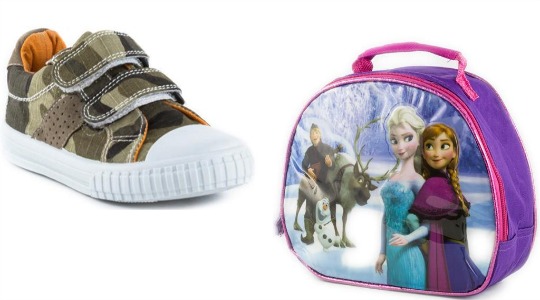 Shoe Zone is the place to go if you want a right cheap pair of shoes. I can't vouch for the quality as I haven't used them for other than slippers, but I do have friends that swear by them for play shoes and even school footwear. If you spend £25 before midnight tomorrow you can get an extra 20% off when you enter the promo code FLASH20 at the checkout. That means you can get yourself a pair of shoes for free whilst you buy the kids some shoes. Yes, they are that cheap!
Right let's do a dummy order and see what you can get for around £25 (approx £20 when you use the code): Disney Frozen Mule Slippers* just £6.99, Disney Princess Backpack* now £6.99. Camouflage Canvas Shoes Boys* just £4.99 and Despicable Me Umbrella* just £6.99. That order comes to £25.96 before the code, and the price you pay when using the code is £20.77 delivered.
Shoe Zone offers not only FREE delivery but FREE returns too up to twelve months after purchase. You'll struggle to find retailers that offer such great services.