Dora Colour In Backpack Dora the Explorer £3.10 Add On Item @ Amazon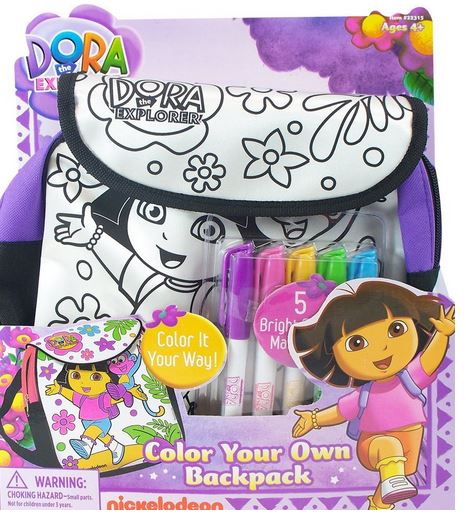 Normally when Amazon reduce a product so heavily, and throw in free shipping, you get the idea they'll do pretty much anything to shift it. Even though this Dora Colour In Backpack has been reduced from £19.99 to £3.10 and there's free shipping with other items over £10, the comments on it aren't horrible and it has four stars too.
The colour-in backpack gives little artists and fahionistas a bit of control over their style. The washable markers are said to come out in a regular washing machine cycle, so that you can draw, wash and redo. I'm not sure if these have been changed or not, but many of reviews do not agree with that statement, saying that the markers are really hard to get out of clothes, off surfaces, and out of rugs. So do bare that in mind when you put your little artist to work.
The markers included are pink, purple, yellow, green and blue.
Apparently the whole set is only suited to children over 3 years due to small parts.