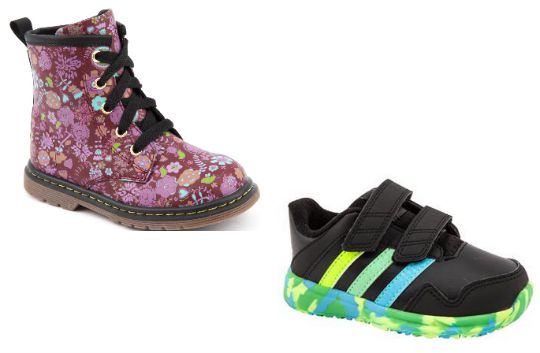 We all know that the shops are full of reduced stock but it's mostly summer dregs. If you are looking for shoes to do the kids through winter then a £3 pair of Flip Flops just won't cut it. Jones Bootmaker are offering 20% off Autumn/Winter Footwear and tody is the last day, so make the most of it and save yourself £££'s. Just enter promo code AW20 at the checkout and you will receive 20% off of any eligible pairs.
Girls' Shoes start from just £7, £5.60 with the promo code. Here's what you can get your hands on: Disney Frozen Long Wellies*was £15 now £12 with code, Hush Puppies Serena Leisure Trainers* was £22 now £19.60, Jones Bootmaker Fleur Ankle Boots*was £28 now £22.40 and Lelli Kelli Mila Dolly Pumps*was £49.90 now £39.92
As for the Boys', check these out: Adidas Snice 4 Leisure Trainers* was £24 now £19.20, Jones Bootmaker Aero Boots*was £30 now £24 with code and Vans Atwood Hi-Top Oak Ankle Boots* was £36 now £28.80.
You can Click and Collect your shoe orders for FREE from a Jones Bootmaker store or opt for delivery which costs £2.99 unless you spend £20 or more.