Children's Branded Footwear Sale: Starting At £7 @ Office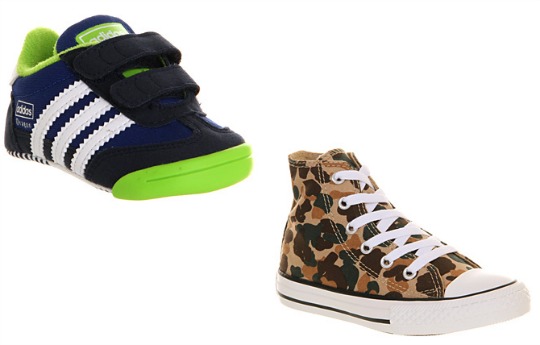 I just LOVE buying trainers for my youngest. His current pair are the blue and green ones above and they are really good for him as he is at the cruising stage. The thing is, as you know, children's feet grow at a crazy rate and branded shoes don't come cheap. That is unless you shop carefully and buy when there are sales on. Office have a good one on just now, with footwear from just £7.
There's a good mix of boys and girls' shoes in the Office Branded Footwear Sale. If you like Adidas, Converse, Puma and Vans then you are going to love this sale.
The Adidas Dragon Cmf Blue/Lime Trainers* are reduced from £21.99 to just £16. I am not quite sure why but the girls' ones are cheaper at just £14, here* or pick up the unisex ones for £12, here*.
Check out these Vans Star Wars Camo Shoes* reduced from £26.99 to just £16 or these Puma Suede Kids Trainers* now only £12 a pair.
You can Click and Collect from your nearest Office store or pay £3.50 for delivery.