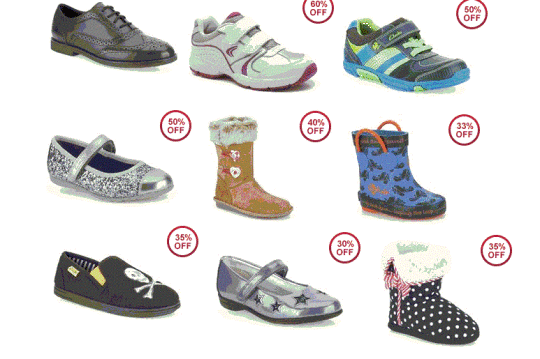 Clarks up to 65% off sale has started, with shoes - slippers actually - starting from £7. There are trainers from £10 and boots from £10 too, and school shoes from £20. Delivery is available free of charge, so there's no reason to even leave the house.
The sale has been on for a short while now, but there is still a lot of stock, as far as we can tell, although that depends on the shoe - some of them just don't have all the sizes anymore.
The biggest savings are on the sports shoes, with up to 65% off making them all around £10.
In the girls section there are 68 shoe styles to choose from, and over in the boy's category there are 48 styles to choose from, with the biggest discounts also falling in the sports shoes arena.
If you're in the market for new school shoes - those feet don't seem to stop growing, do they?! - then you're out of luck for the boys, though they do have black leather shoes for £23*, and also fabric shoes for £9.50*.
Girls have a few more options, like the Daisy Dawn* shoes for £25 or the Dance Bliss* for £20.
Thanks to alisonmfrancis at HUKD