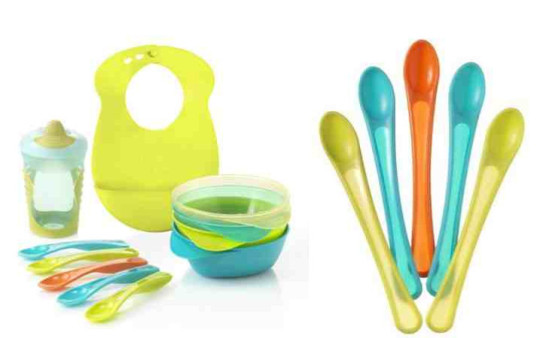 I don't know about your house and your children, but in mine we just never had enough pots for snacks, and there were never enough spoons, so this Blue Tommee Tippee Explora Feeding Kit & Bib for £8.99 reduced from £13.99 is a great price. Unfortunately that means you now have to pay the £3.49 delivery, so rather add on an extra set of 5 weaning spoons for £3, reduced from £4.99, and you don't have to pay delivery and have spares to last a while.
If the word revolved around me, I'd be pretty sure companies put 'for boys' on things just to rile me up. It doesn't, fortunately, and since weaning equipment isn't involved with genitalia at all, this would be a lovely weaning set for a boy or girl. Perfect too, if you have one of each!
This set is aimed at those aged 7 months and up, and includes an Easy Drink Beaker with a soft spout which is easy to drink from, and its easy-grip sides and base make it easy for a baby to use. The Easy Scoop Feeding Bowls have an easy scoop triangular base, which makes scooping food easier. The Feeding Spoons have been designed to help your baby learn to feed themselves, featuring chunky handles for an easy grip and a wide spoon base to scoop up and hold food in place. The Roll and Go Bib is perfect for feeding in the home or on the go, with a crumb and mess catcher.
The Explora Soft Tip Weaning Spoons have been designed with an extra-long handle, which is ideal for reaching into jars and storage pots, and the handles are curved and arched making them comfortable to hold, and a shallow spoon for easy feeding.
All items are steriliser, microwave, and dishwasher safe, and as with the whole Explora range are BPA-free.