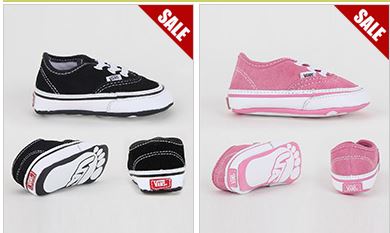 Footasylum have an offer on Baby Vans for just £9.99, reduced from £22.99. Delivery to store is free, otherwise it's £3.95 for delivery in 2-3 days.
When my daughter was a newborn, we went for a stroll around Camden Market one day. In one of the Doc Martin shops, we found a pair of baby Vans and my sister bought them because she's a true doting aunt. Now, that was four years ago, and she paid over £20 for it then! So this is a real bargain. I might have to buy some today and pop them in the cupboard to return the favour for her one day babies!
These Vans Crib Authentic Trainers are available in pink suede and black suede. They have  contrast stitching throughout, the Vans design to sole with a small tag to outsole.
They say they provide great comfort yet style and I'd love to know which baby told them that - but anyway, they are cute and they look superbly cool, no question.