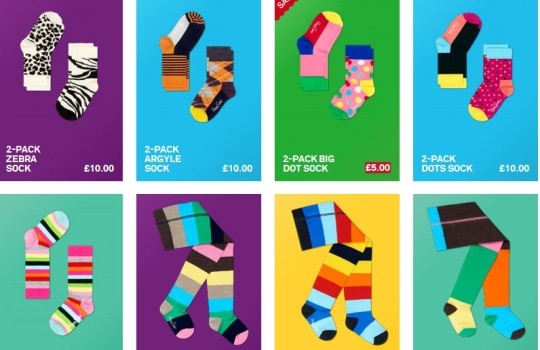 I hate to say it but I actually pulled a blanket out the cupboard this evening, because once the sun went down, it suddenly became rather cold! If you're in the market for socks and tights, here's a 15% off voucher from Happy Socks for you. Delivery is an additional £3, but it's free if you spend £30.
Click here to browse the colourful selection of socks and tights from Happy Socks*
Discount: 15% Off
Expires: 8 September 2014
Discount Code: KIDSPLAY
There are some really bright and colourful sets at Happy Socks, and they're not your run of the mill supermarket brands either. This code takes £1.50 off socks, and £2.25 off tights.
Apparently Swedish designed, they are available in size 0 - 4 years, and in different 'styles' too. By styles I mean ankle length, high leg, and tights, but they do all have different patterns and are quite fun and funky!
Certainly a little different to the norm, and if you're looking for little girl tights that aren't various shades of pink and pastel, they're a winner!