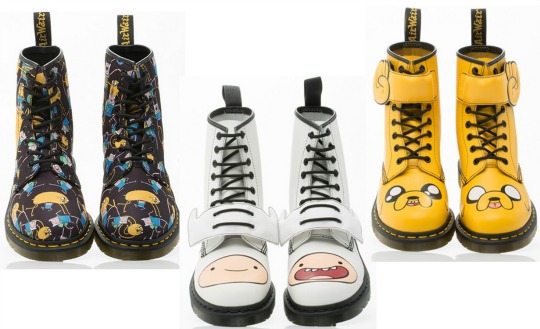 WOWZA! We told you about they were coming....The Doc Martens/Adventure Time Collaboration has hit the shops, well Schuh to be precise. Go, go, go if you want these as they will sell out and end up on eBay for double the price. The White Finn ones and the Yellow Jakes ones are highly collectable as they are limited editions and are priced at £80 a pair. The Black patterned ones are just £65.
Okay, so these are pricey but they are pretty awesome and your kids will love you forever...you can't put a price on that can you? Plus I just heard today that there's to be an Adventure Time film to be made. I will hazard a guess that it'll be in cinemas by the end of next year. Be ahead of the trend and get these boots now.
Every size is in stock now but be aware that as soon as the word spreads that these are out they WILL sell out!
Standard delivery is FREE with these as is store pick up. Want them sooner? Pay just £1 to get them next day!