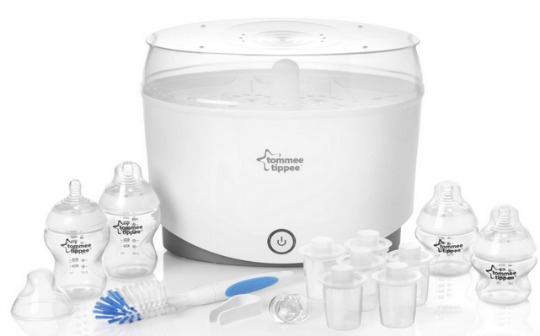 Amazon's Deal of the Day will please those of you that are pregnant and needing to buy baby feeding equipment. They have up to 50% off those all important items made by Tommee Tippee. The Tommee Tippee Closer to Nature range just has to be one of the UK's biggest sellers when it comes to bottles and sterilising. The items start from only £3 and you will of course get FREE delivery should you spend £10 or over. There's a great selection so even if you don't need a steriliser, take a look. Don't forget that if you sign up to Amazon Family and use the promo code found here, you can get £15 off a £60 spend.
Looking a steriliser? The Tommee Tippee Closer To Nature Microwave Steriliser* is now only £13.49 delivered. It's this price at a couple of places just now but not at Boots.com where they are charging £28.30. I know many people who have opted for these recently.
When I was breastfeeding the first and second time round I had a Tommee Tippee Closer to Nature Manual Breast Pump*. I was young and way too self-conscious to breastfeed outside, so I expressed a lot of the time, and this was a great help for that. It's just £14.99 delivered.
There's lots more than those two items so it is worth a gander.