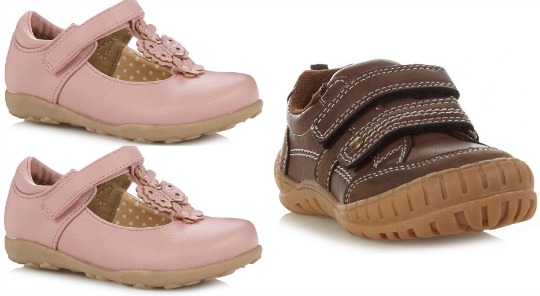 If you looked at the picture above and thought those were Clark's shoes then I confess, I too thought the same. They aren't, they are in fact Blue Zoo shoes from Debenhams, and they are MEGA cheap. Debenhams are running an "Up to 50% off" sale on children's shoes just now, and they start from only £6! There's lots of bargains to be had, so you might as well fish out that debit card as the page loads.
We appreciate that it's not really the time of year to have spare cash lying about for new shoes, but these are so cheap you can afford to tuck a pair away for the spring.
The availability is excellent on most styles, but I reckon that'll change once the word is out on how good this sale is! Those Clarks lookalike Blue Zoo Brown Riptape Shoes* are now only £7-8, reduced from £14-16. The Blue Zoo Navy Boat Shoes* are gorgeous and only £6-£7 a pair!
As for girls' shoes, you will not find cooler shoes than the Blue Zoo Patent Cat Toe Shoes* at just £6.50 to £7.
Remember, if you opt for that FREE Click and Collect service and spend £30+, you will receive a £5 voucher.