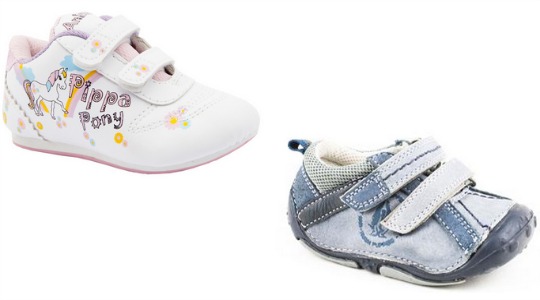 Time to get the kids some shoes. Brantano have at least 15% off every pair of Children's Shoes. This includes brands like Adidas, Clarks and Start-Rite. There are 669 styles to choose from so I am sure everyone can find a bargain in all that. There's an even choice for boys and girls which is good because it's usually one or the other. The shoes start from only £3, so get over there quick to grab all the best bargains.
Here's my top picks for the girls: Osaga Pippa Pony Trainers* was £14 now £11.50, Clarks Briley Bop*was £20 now £17, Clarks Magical Sleep Slippers* was £14 now £11.50, Feet Street Patent Flowers Shoes* was £14 now £11.50 and Feet Street Candyfloss Ballerina Shoes* was £12 now £10.
And for the boys: Hush Puppies Tad Touch Shoes* was £25 now £12, Clarks Holbay Fun Shoes* was £32 now £27, Brantano Croc Wellies* was £12 now £10, Fireman Sam Help Slippers*was £10 now £8.50 and Adidas Hyperfast Trainers*was £24 now £20.
Delivery costs just £2.50 if you opt for Saver, or £2.99 for Standard or only £3.99 for Next Day.