Win A Trunki GoVinci Backpack!

Congratulations on making it through your first week of school parents! I hope you've all been coping well with the all the excitement, bustle and madness. To help you cope with the incoming winter and school going blues, we're giving away two delectable Trunki GoVinci backpacks.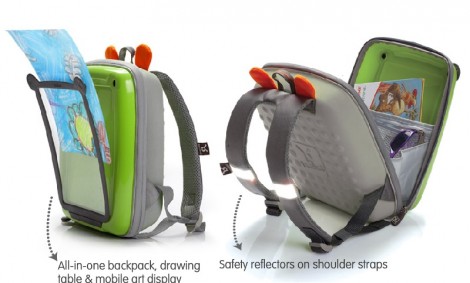 Oh yes, you read that right. Two lucky parents will be walking away with their very own GoVinci backpack and these are really quite awesome. They are solid and lightweight with plenty of storage, plus they have a built-in art window where kids can display their recent creations.
The solid frame doubles as a mini table for drawing and leaning, and the multitude of pockets mean that everything has its place. You can see our review here.
Worth £19.99, the GoVinci backpack is another moment of inventive genius from the makers of the Trunki luggage.
How to Enter
The competition will be running for two weeks, from 13 to 26 September 2010 and to win you need to answer only one simple question. You can find the answer to this question by visiting the Trunki site here.
Question: What colours does the Trunki GoVinci backpack come in?
Subscribe to the PlayPennies daily email update (1 entry)
Leave a comment in the thread below with answer (1 entry)
Tweet a link to this contest and leave your twitter link below (1 bonus entry)
Rules:
The contest ends on Sunday 26th September 2010
The question must be answered correctly to win
Open to UK and Ireland residents only
1 person per household may enter
Must complete email verification when subscribing
Must include a valid email address if commenting
Admin's decision is final in call cases
The winner will be announced on Monday 27th September 2010 and your prize will be sent out that same week. Please expect delivery within two weeks of the announcement.