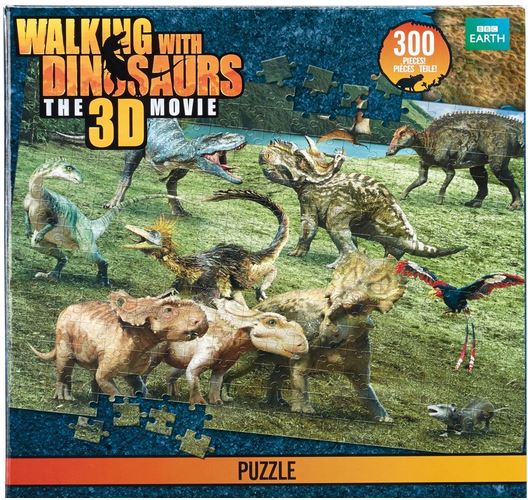 If you're ordering from Amazon any time soon, you may want to consider this add-on item for your basket. The Walking With Dinosaurs puzzle is reduced from £7.99 to just £2.86. The next best price I can find for it is £6.99 from 365games.co.uk and £12.99 including shipping from Debenhams.
The Walking with Dinosaurs puzzle is a 300-piece BBC Earth product, which Amazon states is for children 4+. I think, as one of the reviewers say, that that is a safety rating, rather than an age appropriate rating, because my puzzle loving four year old would struggle with this one. The colours are all quite similar - except for the obvious red bits - and the pieces are small, so not really pitched at four year olds - at least not mine.
That said, the reviewers say it's a good puzzle, and fair quality. It features a good variety of different dinosaurs - or at least what we speculate that they looked like, and is a great follow up for anyone that watched the movie, but is a good standalone product too. It's certainly good for a gift, if you're anything like me and have a gazillion birthday parties at this time of year.