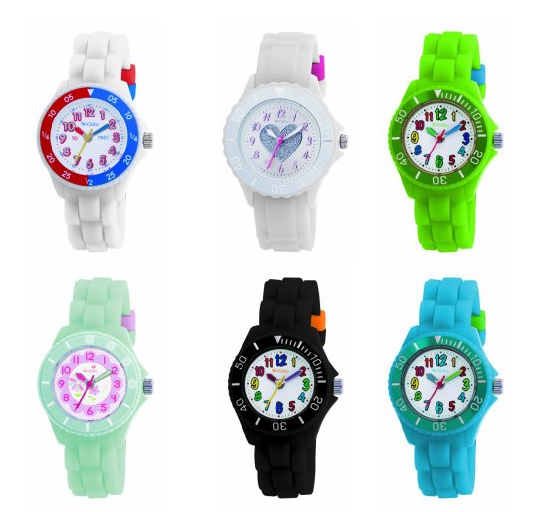 If you're looking for a watch for the younger end of the childhood time-telling market then you should take a look at the back to school watch deals that Amazon have on Tikkers watches at the moment.
My husband has a real 'thing' for watches (rather expensive bright and shiny Breitling ones), I've been having a bit of a love affair with Charmed by Accurist watches and now have four of them in different colours.
My teenage daughter has always wanted to be 'into' watches and ever since she was small she's been bought them.  The thing is, she didn't like how they felt on her wrist and would carry them in her hand rather than wearing them - this, of course, meant they were lost easily and in the end she gave up.
My youngest son is six and has yet to embark on his own watch wearing career but, when he's ready, these Tikkers would be ideal for his age group.
They feature either a rather funky looking silicone or velcro strap and come in an array of bright and pastel colours to appeal to both boys and girls; each watch is guaranteed for a year and come presented in a brightly coloured gift box.
The usual price for Tikkers watches is £14.99 and most of them seem to have been reduced down to the £7 mark.
Happy time-telling!