Stabilo Easy Colors And Boss Mini Ocean Friends Review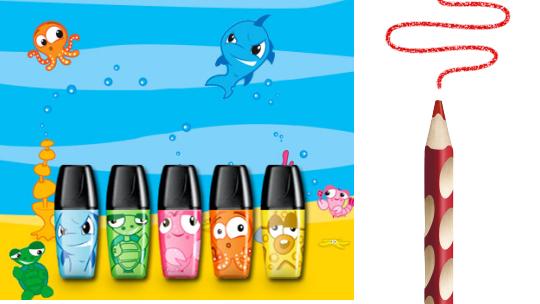 For most of England and Wales it is back to school today. And all I can say is woo hoo! What a relief. It is so hard to work when you've got people running around the house who don't have to. Judging by the gloom on my husband's face though I am clearly the only one glad the holidays are over.
Son went off with a hop and a skip though, so eager he was ready to leave the house as soon as he could. That's what two weeks away from your friends will do I guess. I expect it to be all back to normal by the end of the week, with dragging feet and threats of doom just to get his shoes on.
What better way to add a little sparkle to their school lives than some cool back to school stationary? OK so yeah, that doesn't really amount to a whole lot of sparkle but you might be surprised. Just before I was asked by Stabilo if I wanted to review these products I was in the queue at Sainsbury's behind a little girl aged about 9 who was positively glowing because she was getting a packet of these Boss Mini Ocean Friends.
I didn't think the love of stationary gene that is clearly on most X chromosomes kicked in so young. So maybe there's something to making these items fun for kids. I thought it would be a good idea then to take a closer look.
Stabilo sent us their pack of 6 Easy Colors too, just to make it a bit more interesting I guess.
Stabilo Boss Mini Ocean Friends
How can you resist these? They have cute little pictures on them of sea creatures! The Stabilo Boss Mini Ocean Friends (£5.49 at I Love Pens) comes in a pack of five colours - pink, yellow, blue, green and orange. You can also buy a 3 pack (£3.87 at Amazon) and in this you get the pink, blue and yellow highlighters.
Stabilo markets these pens with the tagline of "add a smile to a boring school day". I'm not entirely sure that's such a good idea - promoting the idea that school is boring! But I can see what they mean. I know I'd find myself that little bit happier if I found one of these in my pencil case when I opened it.
For that reason I guess they're aimed at kids from Year 7 and upwards. I gave these to my son, who is six years old though. And really did not get the same reaction as the little girl who I saw in the supermarket though.
Since taking them out of the packet though, I've found him playing with them, as if they really are the sea creatures on the pens. He asked if he could take them to school with him today, so I popped them in his book bag. Let's see if they're still there when he gets home!
I don't think the teacher would be too thrilled though if the pens live up to the promise on the website where it claims "the highlighters form little animals, which encourage your fantasy to dream away into the mystic blue."
As highlighters, the pens work as you'd expect. There isn't much a six year old needs to highlight, but as well as doubling as toys, he enjoyed using the special colours to draw pictures.
Stabilo 6 EasyColors
The Stabilo EASYColors pencils are ergonomically designed colored pencils for left- and right-handers (£6.01 with Amazon, and free super saver delivery). The pencils have non-slip grip moulds and a triangular shape to help ensure a relaxed grip and make coloring really easy. This should help children keep the  correct hand posture.
This is something I've become a bit of an expert in, because for physical reasons holding a pen or pencil, and applying pressure to write or draw, is very difficult for my son. We've used these EASYColors pencils in the past, and they are excellent.
As well as being easy to hold, they're easy to draw with. The nib is soft, and spreads colour easily without the need for pressure. They have a fairly wide nib too, so you can spread a lot of colour. This makes them much easier to use for colouring in.
As a parent, I have to really commend Stabilo for their attention to detail. The box or package that the pencils come in is designed for re-use. So don't rip it open! You just pop it open, and there's a little bar that you can slide up that keeps the pencils in. It is a lovely little case on its own, and perfect for keeping the pencils tidy and in one place where you can quickly find them.
And Finally ...
The Stabilo Boss Mini Ocean Friends are a good size for a pencil case, and I do like the designs. All in, I'd have given these a top rating except that I think they're still a little bit too pricey for what you get. Perhaps they'll be cheaper in the supermarket (I couldn't find them on the website of Sainsburys although they clearly sell them instore).
Overall verdict: 9 out of 10
I know that at a quid a pencil the Stabilo 6 EasyColors pencils are expensive, and for that reason alone I've knocked them down a rating, but if your child is having any problems at all with drawing, writing, or holding pencils, then you'll think they are worth every penny. And then some. I can't recommend them enough, and these are the pencils I buy.
Overall verdict: 9 out of 10