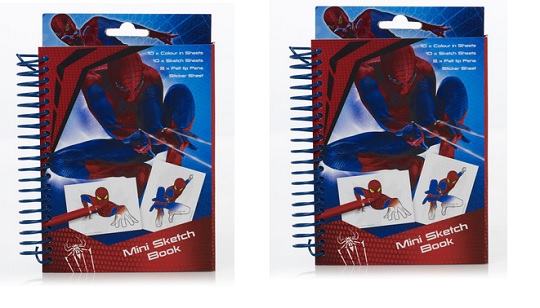 Wilko is selling a range of Spiderman goodies at really low prices. Although some of them have sold out, there are still some really good deals in here that can be used to stock up school bags as you prepare for the back to school rush.
The Amazing Spiderman mini sketch book is only £1 and it has 10 colour sheets, 10 sketch sheets, 5 felt tip pens and a sticker sheet. That is really, really good value for money there. And it could keep little hands busy so you can get stuff done.
You can also get the Marvel Cushion Head for £10, the Amazing Spiderman Art Pack for 25p (that is such an insanely low price I am almost worried it is a typo), the Amazing Spiderman Stationery set for £1.50 and the Spiderman Pendant Shade for £8 (on sale from £10). There are book cases, toy boxes and plenty more at Wilko right now.
Thanks to sherbolton at HUKD!