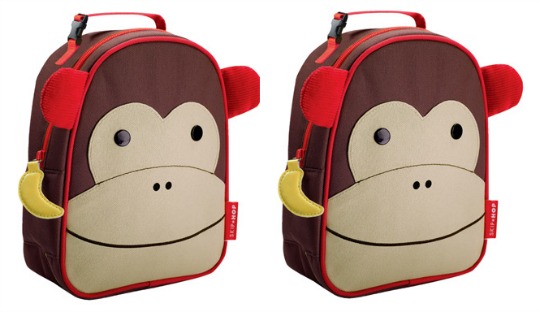 Can you believe how quick these school holidays are going? A lot of schools in Scotland go back next week and it'll not be long until the rest of the United Kingdom do too. Here's a back to school item to help you on your way.
Amazon are currently selling the Skip Hop Zoo Lunchies Lunch Bag in Monkey for only £10.80 delivered. It's £13.99 in Halfords and £14 in Jojo Maman Bebe. Every penny counts when you have to buy so much for their return to school, and a £3 saving is not to be sniffed at.
I absolutely adore these Skip Hop Zoo Lunchies, the monkey one especially. I am going to buy one for my son Ben, because it's like they modelled it on him. Very cute!
If you fancy getting your child something a wee bit different than the run of the mill lunch bag then these are ideal. They have plenty of space in the insulated compartment for all the usual lunchbox items. It's wipe clean too, we all know how important that is and how gross these things end up inside.
There's an inside mesh pocket where money, cutlery or even an icepack can be stored. With a special name tag bit to write on your child's name, there will be no excuses for them losing it. The handle at the top can clip onto a pushchair or onto the Zoopack backpacks. Quite a nifty little feature.
Why not check out the Skip Hop Zoo Lunchies? They certainly look a bit different and will surely  make your child stand out from the crowd.