My First Scooter £13.99 @ Amazon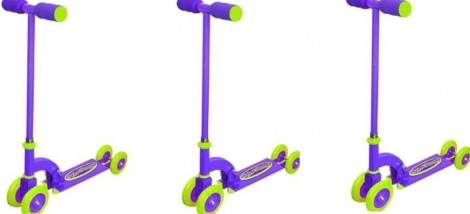 If you missed the last few scooter deals that Amazon had, then this one should make you happy. They have marked down the My First Scooter from £20 to £13.99 including free delivery. Bargain.
The purple and green My First Scooter is selling for £13.99 and the pink version is selling for £1 less. I am against categorising toys and gender – saying that because a scooter is purple it must therefore belong to a boy – so either scooter will do for either gender.
We happen to have one of these for our daughter, the purple one, and it is a great pre-school scooter trainer. You can have four wheels – two at the front and two at the back – or three or two. It depends on their level of experience and confidence on the scooter.
The My First Scooter weighs 1.6kgs and can be folded up to conserve space. They are light, easy to carry and great for teaching kids to scoot to school.
Thanks to sparky-shark at HUKD!