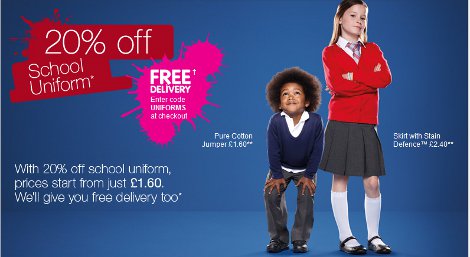 There's currently 20% off school uniforms at Marks & Spencer, as well as free delivery with the code UNIFORMS.
I don't have a school age child, yet at the same time the thought of 'back to school' still fills me with all kinds of dread.
While it's possible that there will be even greater deals as the return dates approach, 20% off uniforms isn't a bad start – with Cotton Jumpersstarting at £1.60, and Stain Defence Skirts (what???) starting at £2.40.
And while you're looking at stain resistant skirts, there are also 3-pack Non- Iron shirts starting at just over £7.  (Wow. School uniform 'technology' has changed since I was at school! We scrubbed the stains out our clothes, and ironed them before school!)
There's a selection of Free Trade clothing too, also with 20% off.
I'll tell you one thing though – school uniforms haven't changed much since we wore them, have they?
Thanks to Yorkie1962 at HUKD