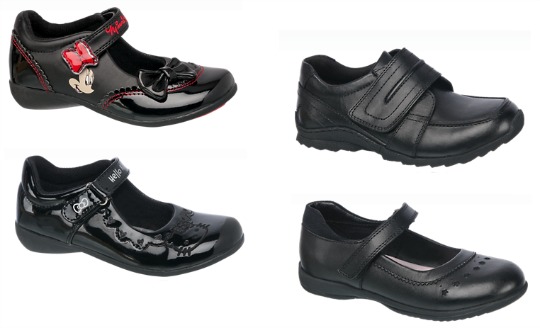 Deichmann have a wide selection of school shoes on their website starting at just £9.99. They have lights up shoes, character ones like Minnie Mouse and also leather shoes too.
Free courier delivery is standard and you can also grab an extra 15% discount when you spend £25 using the code VC15.
I chose two leather pairs at £19.99 each. Half the price was deducted automatically from one due to the promo and when I entered the code VC15 it took another 15% off the total. Delivery by courier is automatically free. My order for the two leather pairs at £19.99 each ended up costing me £25.48 for both delivered. So less than £13 each for a pair of leather school shoes to your door, a decent price I think.
They have both girls and boys shoes in the promo and the ones included are easily identifiable by the Buy 1 get 1 ½ price symbol next to them.
To make the most of this add two pairs from the promo to your basket and enter the code VC15 in the voucher box provided. No code is required for the free delivery, that comes as standard.
What do you think?
Thanks to bebo83 @ HUKD!