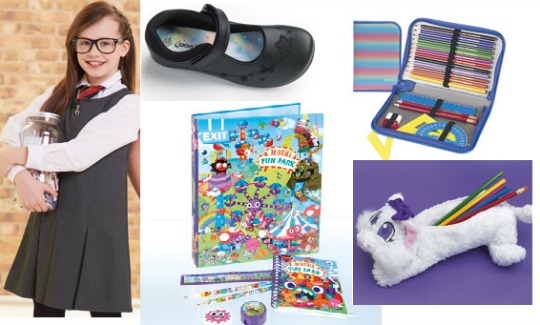 I totally forgot about this gem of a site. If you are looking for back to school items then you have come to the right place. Half Cost can seriously save you some hard cash on those clothing and stationery items.
Half Cost is one of these sites that can be a bit of hit or miss when it comes to things. Some of it is tat but some things are just absolute bargains. Back to school items start from 50p and when you use code FF15 you get an extra 5% off (minimum spend of £1 required). Not too bad, huh?
This lovely cheap and cheerful site is even offering free postage and packaging when you spend over £5. Trust me you will find plenty to make your order up to a fiver.
There's some school uniform items like girls navy pinafores for only £2.84 when you use the code mentioned above. The pinafore is available in two sizes, 4/5 and 6/7. There's plenty in stock you can can buy multiples if you so desire.
If you fancy a stationery set that has everything you need for your little school goer, then the Moshi Monster back to school set is only £1.89 with the code .
If you are need of pencil cases then you can opt for the plain blue one for 50p or 95p for the very cute, furry kitty one. The kitty one is bound to get lots of comments from classmates.
Theres even some little school shoes on the site, but the sizes are very limited. Most are a size six for girls, so if that's your daughter size then your in luck.
Spend over £1 to use code FF15 to get 5% off and spend over £5 to get your free delivery thrown in. You can find this code and lots more at our vouchers section.