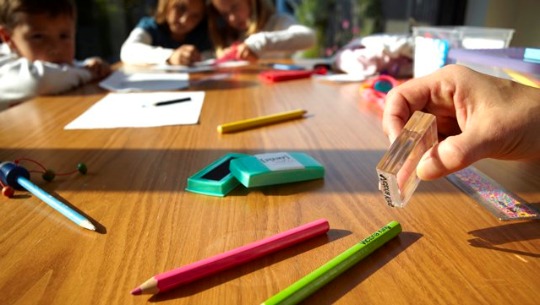 I know we're all winding down, or at least starting to, and the new term seems a long way off BUT I have something here that will make your life a WHOLE lot easier.
Have you heard of Stamptastic before? I was introduced to them by a friend last year and was immediately hooked. No more ironing, or even worse SEWING, on name labels (and then hearing that they're too "itchy,") no ink running from the laundry pen and more importantly no fuss and a whole lot of time saved!
It's basically a personalised name stamp and when you buy that along with the ink pad, you can pretty much stamp your child's name on ANYTHING. I've used it on pencils, lunch boxes, shoes, bags and all of my daughter's school uniform. It takes seconds and twelve months on the stamp I bought (and the ink) are both still going strong. More importantly too there's no fading at all with this - my daughter's name is as clear now on all her items as when I first stamped them.
Head over to Stamptastic and order your stamp and ink pad*
Code : PP15
Discount : 15% when you spend £13
Expires : June 28th
In a Playpennies exclusive you can save 15% using the voucher code above, both the personalised name and ink will cost £18.70 and that's delivered, no hidden extras.
When you order your stamp, by clicking the blue link above, you have loads of options to ensure you get exactly the stamp you want.
If you have more than one child, this isn't the cheapest option I know but you could always do what my friend did and order surname only? I have one daughter so opted for her full name.
Like the look of Stamptastic? You'll find all their other discount codes over in our voucher section. If you're looking to buy school uniform now for next term, don't forget to check out the 20% off at Marks and Spencer* before it ends too.
If you want to find out more, check out Heidi's review HERE* It seems she loved it as much as I did!
Still thinking it's rather expensive? Consider how much some places charge for personalised pencils for example - with the Stamptastic stamp you can just buy regular ones and personalise them yourself. For me personally though, the convenience and time saved with this nifty little product far outweighs any concerns over the initial outlay and once you have it, you have it.
What do you think? Something that you would buy?