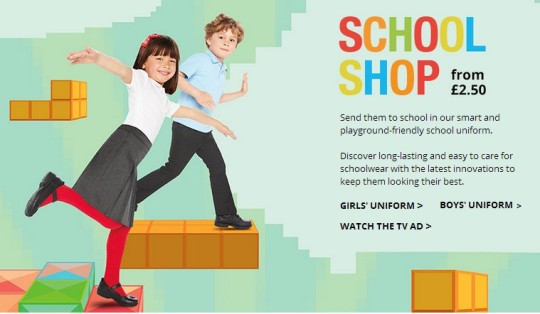 Tesco has an offer on school uniforms at the moment, where if you use the code below you can take £10 off a £40 spend. The offer stacks with a series of other offers which all end tonight, so if you still need to stock up on school uniforms, take advantage of this while you can. If your basket is over £50 before you apply the discounts you'll still qualify for free delivery.
Click here for the school uniforms at Tesco*
Discount: £10 off £40 spend on school uniforms
Discount Code: FFBTSTEN
Then add these discounts ending tonight as appropriate:
For cardigans:
Discount: 50p off F&F school jumpers and cardigans
Discount Code: SCHOOLSOUT5
For school shoes:
Discount: £2 on school shoes
Discount Code: SCHOOLSOUT4
For polo shirts:
Discount: 50p on polo shirts
Discount code: SCHOOLSOUT3
For school trousers and skirts:
Discount: £1 on school trousers and skirts
Discountcode: SCHOOLSOUT2
For school shirts:
Discount: £1 off all F&F school shirts
Discount Code:  SCHOOLSOUT1
You should be able to stack all these codes together in one order, and save yourself a good £15 on school uniforms.
For these and other F&F discount codes, head to our voucher section.