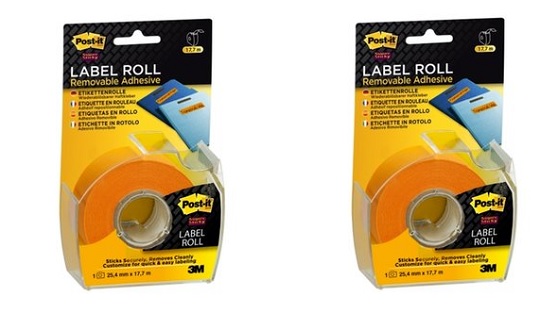 You can buy stuff directly from 3M – did you know that? I didn't know that. And they have some pretty cool stuff on there if you amble on over to the Home section. While I was there I uncovered some awesome offers. You can get the Post-it Super Sticky label roll in yellow and orange for £5.27 instead of the usual price of £10.54. Nice saving that.
They do have one condition on this price, you have to order a minimum of two packs at a time. Now that it has been reduced by half, you are getting quite a bargain with that and it is brilliant for all that back to school labelling and marking. This stuff sticks!
Oh, and you can also get the same rolls in green too so why not mix and match your minimum order? I am sure you can get one of each colour and fulfil their requirements. At least I hope so! If those don't work for you, they also have label pads reduced from £7.21 to £5.77.