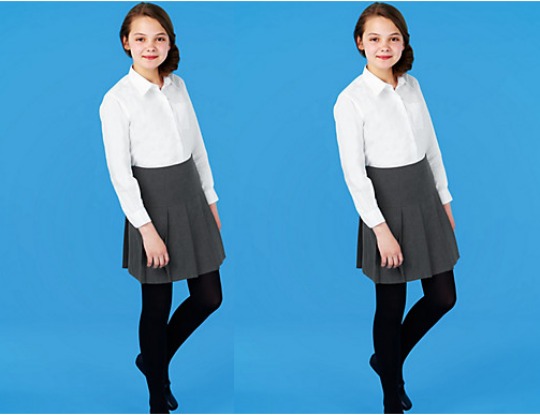 We appreciate that School Uniform is not high on your agenda just now, but if your children are like mine, then you will need to buy school uniform for every new term. My boys don't just get holes in there's but they chew the sleeves, the grotty monkeys. If you click the link below, it'll take you over to M&S where you will find massive reductions on various school clothing items. Size availability varies per piece, per colour.
I have to admit I do like Marks and Spencer for there school uniform. Not only is it affordable, but it's as good a quality as you are going to get for such a reasonable price.
If you are in need of some school skirts to tide your daughter over until the next school year, then this 2pk Permanent Pleat Skirts*are reduced. The grey ones start from just £1.99, that's just £1 a skirt. There's black ones too, at the same price.
Have you got a teenage boy that wants them a bit "trendier"? These Senior Boys 2Pk  Skinny Trousers* are available in black and start from just £2.99. Wow!
These Senior Girls Blazers*look great and and start from just £5.99, sizes are VERY limited though. There's boys ones* too at just £7.99.
There's more school uniform bargains to be found on the M&S site, so get looking if you are in need of them.
Save on the postage charge and make use of the FREE click and collect service from Marks and Spencer.
Thanks to ferrisbueller @ HUKD