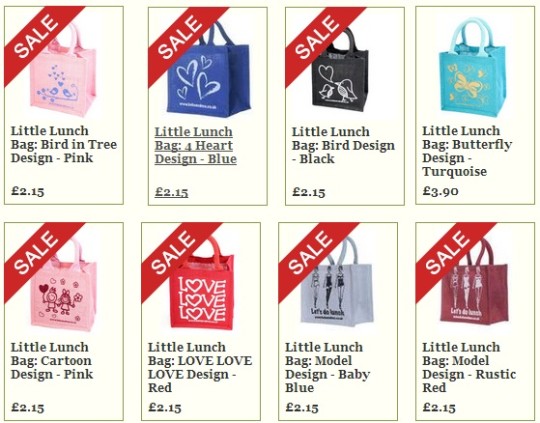 Belo & Me have a sale on some of their lunch bags right now, which means they're just £2.15, but with the delivery fee of £1.65, they are delivered for £3.80. There's a tiered delivery fee, so if you buy more than one, delivery is £2.60 for 2, £3.50 for 3 or more and so on.
Perfect for picnics or days out, these lunch bags are reusable and biodegradable. They're a bit like the Hessian, or Jute,  bags you can get from supermarkets, but these are way cuter.
Jute is strong, hard wearing and long lasting. It's reusable and biodegradable, and strong enough to handle bottles, cans, tins and so on. The handles are strong too.
What makes these different to supermarket bags is that they are laminated and lined on the inside, which makes them easy to clean.
Apart from lunch bags, they'd also make lovely gift bags for food gifts. I love the bird and butterfly designs, but I assume the model styles will go down quite well too!