Hello Kitty Filled Pencil Case £2.50 @ WHSmith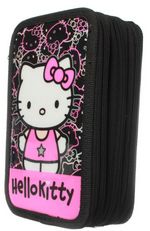 This Hello Kitty filled pencil case for £2.50 is an absolute back to school bargain!
There were a few bits and pieces I needed to get in town yesterday. Not being in the mood for fighting with the masses, I decided to go at the very last minute - 3.30pm!
Everywhere else was quiet but WHSmiths was jam-packed! Queues and queues of fraught-looking parents and bored-looking kids, all armed with a ton of back to school bits and pieces.
Kitting out kids so they're all ready to go back to school is an expensive business, so here's a little deal that might help soften the blow j u s t a little bit.
This Hello Kitty pencil case is a triple decker beast and contains contains a notepad, ballpoint pen, pencil, ruler, set square, Protractor, sharpener, eraser, 14 felt tip pens, and 14 colouring pencils.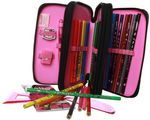 With the best will in the world to not reinforce gender sterotypes,  I appreciate that anything 'Hello Kitty' is a bit girly for boys. I don't know if you could buy the contents of this for less, so you could buy this for what it contains and find a more suitable pencil case that your little boy would be happy with...? It's just a suggestion.
Smiths have reduced this Hello Kitty pencil case from £9.99 down to £2.50, delivery is free if you arrange to collect it in-store or choose the Saver delivery option.
Thanks to hk08 over at HUKD!