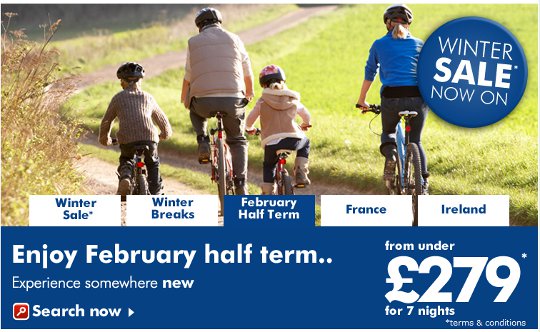 Cottages4You have a number of offers at the moment for winter breaks, February half term holidays, summer holidays in France and Easter breaks in Ireland. They also have a dedicated section for searching for baby and toddler friendly breaks.
The UK Winter Sale offers apply to UK properties which have been reduced by 20% for arrivals between now and 28 March. These properties start from around £260 per week for a four sleeper.
For a 3 or 4 night Winter Break, you'll find properties from around £190, also for arrivals up to the 28th of March, but excluding the Valentines weekend (9th to 15th February 2012)
Half Term holidays are also for 4-sleepers, for 7 nights and prices are from around £279 starting on the 10th of February.
If you have a bigger budget and fancy a bit of summer sunshine, properties in Northern France are available from £685 per property per week, including your ferry crossing for arrivals on the 18th of August. Southern France has similar T's & C's, but properties are from £829 per week and there's no mention of ferry crossing – I guess you'll be flying for that one.
Easter weekend breaks in Ireland start at £315 for four people, and you'll need to arrive between the 29th March to 11th April 2012.
I hope you have fun planning your holidays for the year!