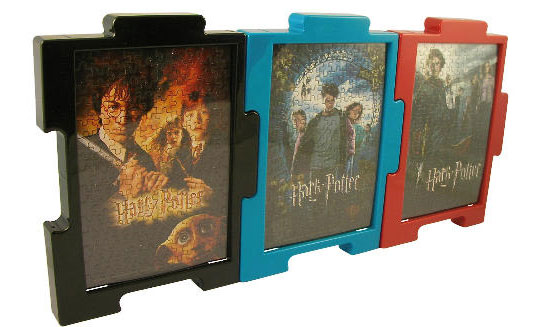 Tesco are selling Harry Potter Micro Puzzles for £1.74; their usual full retail price is £5.97 which is, pretty much, what all the other usual suspects are selling them for at the moment.
I've been looking for something to buy my mum for Christmas for a little while now; she's notoriously difficult to buy for because a) she doesn't want anything, b) she doesn't need anything and c) if she ever does want, or need, anything she'll just buy it herself.
She is one of THE biggest Harry Potter fans I know - properly obsessed - and also loves doing puzzles, so, as a little token something just to mark the occasion, a couple of Harry Potter Micro Puzzles will fit the bill perfectly.
There are six 150-piece jigsaw puzzles each featuring a poster for the films from the Philosopher's Stone through to the Half Blood Prince; if you manage to collect all of them (you can't choose which one you get I'm afraid) then you can join them altogether in their jigsaw style frame.
They're 19cms high by 15cms wide and 5cms deep; suitable for anyone who's a Harry P fan and more than four years old and can be ordered/paid for online and collected in-store for freeee (you have to say that in your best Dobby voice when he was set free with a sock in the Chamber of Secrets!).
Thanks to lucersymum at HUKD