(EXPIRED) Gingham School Dresses: 2 for £7 @ F&F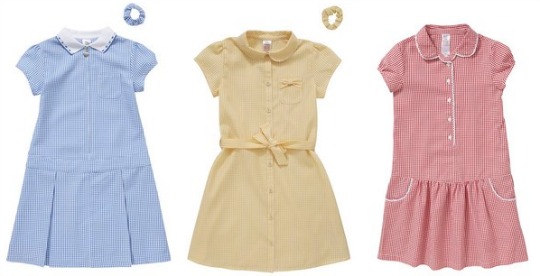 When the sun comes out again and the kids are all back in school I think girls look so sweet in their gingham school dresses. Having boys means that shorts is their only concession to summer time, but if I had girls I'd be snapping up some of these.
F&F have Girls Gingham School Dresses for sale starting at £4 each, but you can get 2 for £7! There's a range of different colours including blues, pink, yellow, green and different gingham patterns as well to match with different school uniforms. There are quite a few styles to choose from, and some come with matching hair scrunchies and belts just to look extra smart for school.
Click here for 2 for £7 Gingham School Dresses @ F&F*
As they're school wear the sizes go from 3 years all the way up to 11 years to cover all nursery and primary school ages. At the moment stocks are good in all styles, but as soon as the weather warms up again these will probably fly out.
You can click and collect for free from Tesco stores, of home delivery is from £3.95.