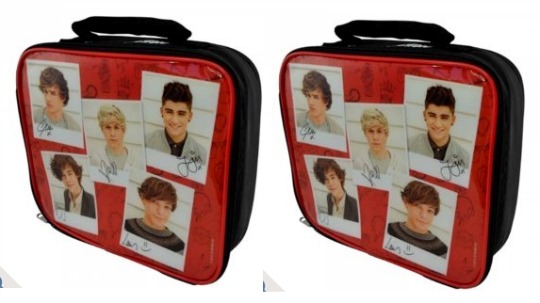 I have to admit I do love a bit of One Direction in the car. My neighbour's daughter is One Direction daft. In my day, it was Take That, and we were much less die hard than 1D fans are.
The Internet Gift Store have this One Direction lunch bag for £2.99. For this month only, they are kindly offering free delivery on every order.
Want to know how to get an extra 80p off of that price? Just simply enter the codes ICLICKED then FACEBOOK1 in the bit for discount codes at the checkout.
Now, I think we can all agree that's an impressive price for a One Direction lunch bag, and it will tick one item off of that back to school list.
It's made of that wipe clean material, you know you're going to be scrubbing the spilt yogurt out of it daily, mixed in with sandwich crumbs. Fully insulated, so it's fine for storing hot or cold lunches. Did I mention the 1D boys are plastered over the front?
The Internet Gift Store is new to me. Up until recently I wasn't aware of this site's existence. I am impressed, as there's lots of nice bits and pieces on here, at very reasonable prices. Factor in the free delivery as well as the discount codes and you're on to a winner.
Please just double check the prices as you purchase as sometimes these fluctuate as more items are sold.
Why not check out our voucher section here on Playpennies, for these discount codes and lots more?