Dear Zoo Floor Puzzle £7.99 @ Amazon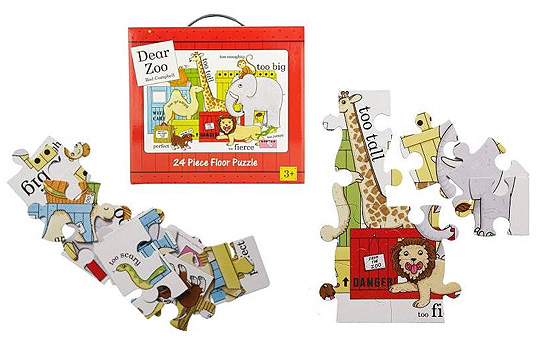 Look up puzzles or floor puzzles posts in the PlayPennies archives and you'll find I've written at least 50% of them; I ADORE puzzles of any variety and this Dear Zoo floor puzzle - £7.99 instead of £8.99 - would make a great companion pressie for the Dear Zoo Animal Shapes board book I told you about yesterday.
Yes I know it's only got £1 off the recommended retail price but, you know, puzzles are so great and get so much use that their full price is worth paying just as much - at least that's what I think, argue with me if you wish!
So why are puzzles so great?  Well, for starters, they're fun!  They also help to develop fine motor skills - due to sorting out corners from the edges and the middle bits - along with pattern recognition and problem solving ability.
Then, of course, there's the sense of achievement and triumph you get when you place that final piece into place; just awesome.
This Dear Zoo floor puzzle features 24 pieces which are big, chunky and robust enough to withstand the attention of enthusiastic youngsters.
All of the usual Amazon delivery options apply - free, if you don't mind waiting a few days; or paid for, in various amounts, if you need/want it pronto.
Happy floor puzzling!