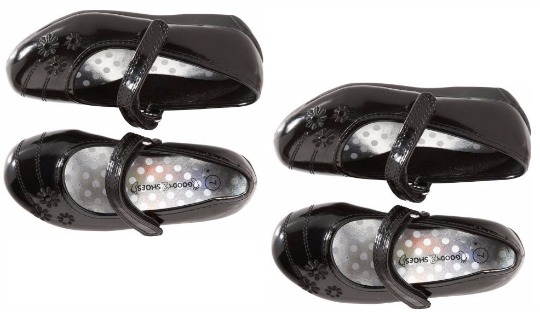 It's the time to start looking for those school shoes. I know, it's not pleasurable or cheap but it has to be done. If you have a little girl then Argos are selling these Back to School Black Patent Flower Shoes for only £5.99. They were £10.99, now they are so cheap you won't mind buying a spare pair. Availability looks good but at this price they are bound to sell out so take that on board. There are other reduced too. Including these Boys' ones for £6.49: Single Strap* and Double Velcro*.
The Back to School Black Patent Flower Shoes comes in sizes 7 (childs) through to a 1. That means that it'll cover a good amount of ages.  There is no rating for these yet on the Argos site but I think for £5.99 you could only be pleasantly surprised. I don't think your expectations will be high, so if they are great then that's a bonus.
They have a rip tape strap, that's velcro to you and I, and this makes them super easy for your little one to put on and off.
You can Reserve and Collect the Back to School Black Patent Flower Shoes or any of the others for FREE or pay £3.95 for home delivery.