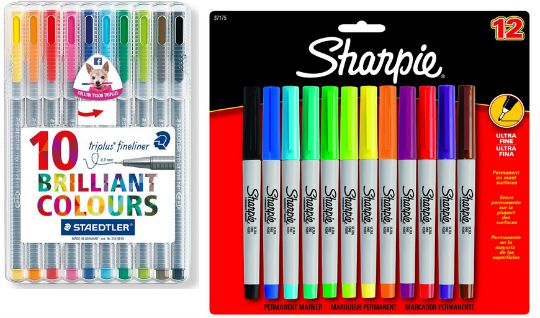 You know the drill... it's that time of year where you go out and spend £££'s on lovely stationery for the kids, only to discover two weeks down the line that it's lost, on loan to the little boy that sits across from your little one and just generally missing. That's why your best bet is to save yourself £'s by looking for the best deals. Amazon have up to 40% off selected Stationery Lines, so go have a look and stock up on those 'Back to School' essentials.
Sharpies are popular and ever so handy for writing names on school clothes. Amazon have up to 40% off of those permanent markers just now. Check out this Sharpie Fine Pack of 12 Assorted Colours Permanent Markers* for £5.
It's not just Sharpies included in this deal but other handy items for Primary School kids, Secondary Teens and those University Students: Paper Mate Ink Joy Pack of 10*just £1.59 delivered, Staedtler Colour Pencil Set* only £3.25, Staedtler Fine Liner Pens* just £3.50 and more!
You can get FREE delivery if you have Amazon Prime or spend £20 or more. If spending under £20 and you don't have AP then delivery is £3.30.