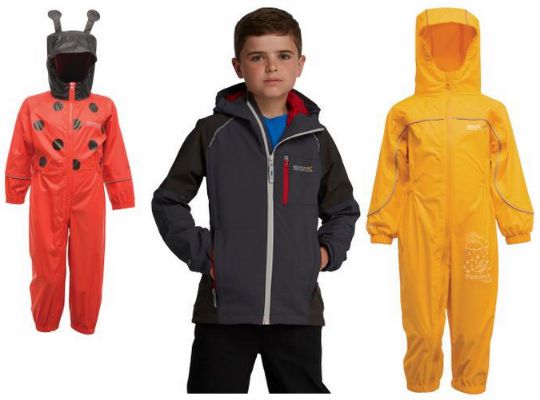 When I bought my 17 month old a Puddlesuit, my husband said "what are you buying that for?". Last week we went to a lovely Fruit Farm with a giant maze. The kids had a ball and I didn't have to moan about them splashing in puddles or rolling in mud. The beauty of the Puddlesuit. Regatta is the place to go for affordable outerwear for the kids and they are currently offering up to 70% off selected lines.
Yesterday, my boys went back to school. They got soaked but today I armed them with their Regatta Jackets and the sun has come out. At least I know they have something shower-proof with them in case of any downpours.
Here are my top picks in the Regatta Sale: Kids Puddle Rain Suit* was £30 now from £7.50, Boys Scafell Jacket* was £50 now from £15, Kids Charco Rain Suit*was £30 now £9 and Girls Lifetime Fleece* was £12 now from £3.60.
Regatta aren't an expensive brand so I think that some of their 'was' prices are a bit OTT but the sale prices are really super and I guess that's all that matters.
You can have your Children's Regatta order delivered to your front door for just £3.95.