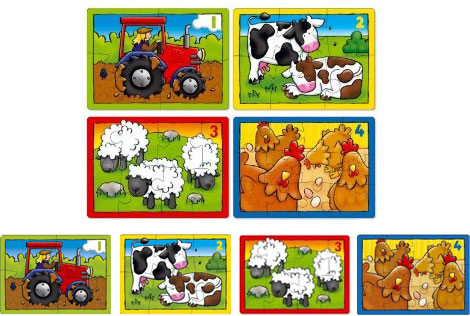 Amazon are currently selling this box of four Orchard Toys farm puzzles for £3.40 instead of £7.00.
I love puzzles; they don't have flashing lights, they don't eat batteries at an alarming rate, they don't have bells and whistles or crinkle, rattle or 'sing' nursery rhymes.
They're just good old fashioned toys that have a huge range of benefits when your child puts the pieces together.
Four Orchard Toys farm puzzles come in this box and are made from 4, 6, 8 and 12 pieces.  This is perfect for really young kiddies to take their first steps into the puzzle world, as the puzzles will grow as their confidence and puzzle-piecing-together skills improve.
Puzzles encourage the development of pattern recognition, patience, organisation (if you sort out the corners from the edges and the middle pieces) and also fine motor skills which are required to fit all the pieces together.
The reviews are good; almost five stars from everybody…
"We bought this for my son when he was about 20 months and he got on really well with it. He still struggles with the chicken one but still loves it."
"Great set of jigsaws! My son is nearly 2 and LOVES doing them. He can do the easier ones himself and needs help with the hardest."
Each puzzle measures 18cm x 18cms and the pieces can be wiped clean.
Thanks to shadow1 at HUKD