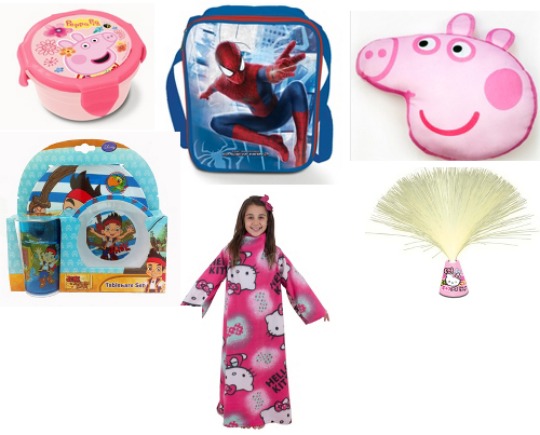 Listen up! Get your behind over to Asda Direct where they have a range of selected kids' character homeware starting from £1. Use code KIDS25 at the checkout and you will get 25% off. This means that the range of selected items start from only 75p. Wow, not bad at all and there's even some back to school items in there.
Here's the items that caught my eye: The Peppa Pig snack pot is only £1 or 75p when you use the code at the checkout. These feature every child's favourite pig and are ideal for the kids to take to school for play pieces. I use mine to put grapes in or a favourite of my boys is smarties and raisins together.
If you are after a boy's lunch bag then I found a Spiderman one included in the 25% off deal. It already has £2 off it just now, having been £8 originally, with the code it's yours for only £4.50.  Not bad at all.
I just love fibre optic lamps, and there's a mega cute Hello Kitty one for only £4.50 with the code. I think that is great for a nice little bedroom accessory.
If you have a little Jake and the Neverland Pirates fan then you're in luck, Asda Direct have included a fair selection in this deal. I think the three piece melamine dinner set is a good buy at only £4.50 when using code KIDS25.
Another deal Asda Direct are running just now is 25% off Leapfrog toys by entering code LEAPFROG25.
There's a great selection of kids' homeware so why not have a nosey, you may just pick up those last few back to school bits and pieces. Save yourself some money by collecting your order for free from your local Asda store. You will find code Asda Direct code KIDS25 and many more at our vouchers section.