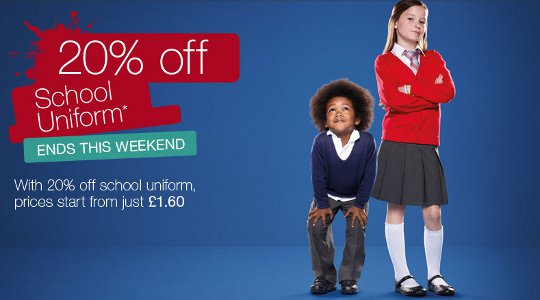 Marks and Spencer have 20% off school uniforms ending this weekend, reducing some items to as little as £1.60.
The cost of school uniforms can really mount up over the course of a year, especially if you have a child prone to losing things and kicking off shoes – or wearing through shoes in no time. Of course, there's the inevitable growth spurt moments after you've rekitted the whole lot. Fun times. And expensive.
Marks & Spencer are offering girls school dresses from £8.00 (with a 20% discount applied at checkout, making the dresses start at £6.40) and shoes from only £2.50 – although these aren't included in the offer.
Sportswear for boys starts at £2.40 , up to £4.80 for football shorts.
There's free delivery to your local store for all these bits and pieces, and free delivery on orders over £30. Otherwise delivery will cost you £3.50 and takes around 5 days… not counting Sundays. Unwanted local school uniform items can be returned for exchange or full refund provided they are returned within 35 days of purchase with a valid receipt or parcel summary document.
Thanks to andywedge at HUKD