20% Off School Uniform @ Marks & Spencer Now Live!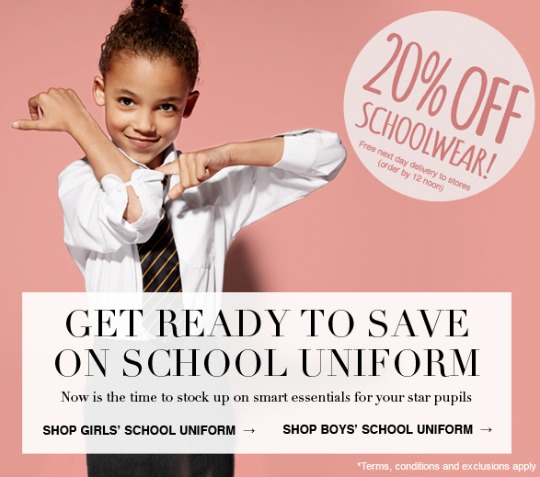 We posted a heads up this was happening a few days ago and it's now live.
This started today online and in store and will run until the 15th of July. The 20% is automatically deducted at checkout with no code required. It covers a whole load of things but does exclude shoes, coats, underwear, hosiery, accessories and stationery.
I'm a huge fan of uniform from M&S for my daughter. Up here in Scotland the term ends next Friday for the summer holidays and while I can't say her uniform looks as good as the day she started, it's certainly lasted well. My favourite thing is the fact I can hang her pinafores up straight from the washing machine to dry and they're good to go, no ironing or at most a very light one required. I'm not a fan of ironing but then again I don't really know many folk that are!
Compared to the supermarkets M&S uniform can seem expensive but I feel it's worth it and for me anyway, it works out less expensive in the long run as items have to be replaced less often. I tend to stock up when there's 20% off. On that note, just something to perhaps be aware of but M&S seem to release a limited amount of stock for this promotion, at least on the popular items. Once they're sold out it can often stay that way until the promo finishes. It ends on the of 15th of July but don't wait until then to get what you want, grab it as soon as you're able to.
If you're ordering online you can have your uniform delivered to an M&S near you free of charge, otherwise standard home delivery will cost £3.50, unless you're spending over £50-then it's free.