10% Off School Wear @ Matalan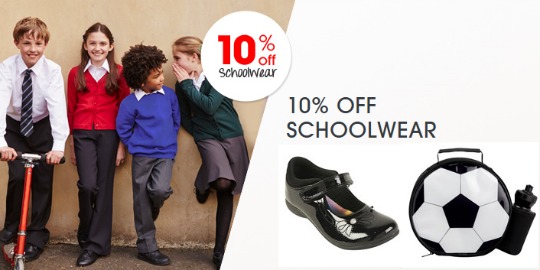 Right now you can take 10% off school wear prices at Matalan using the code below. It works on everything in the category and includes shoes and lunch boxes too.
Head over to Matalan to check out the school uniform*
Discount : 10%
Expires : 9th of July
Code : SCHOOL14
Matalan uniform is reasonably priced as it is but right now you can order uniform and get 10% off. It makes this Football Print Lunch Bag and Drinks Bottle Set* £7.20, these Black Bow Ballet Shoes* from £4.50, while the more traditional items like the Girls 2 Pack Short Sleeve Blouses* start at £3.60 and the Boys Flat Front Trousers* start at £4.50.
I have to be honest and say I've never really bought uniform from Matalan in the past, not for any particular reason and now I've saw these prices I might buy a few pieces and see how they wash and last.
If you are looking to stock up, don't forget the 20% off School Uniform* is still running at Marks and Spencer too. It's really down to personal choice and budget which store will work out best for you.
To use the code, simply pop it in the promo box at checkout and you'll see the prices reduced by 10%. Delivery to a local Matalan is free, while home delivery is £3.95, unless you're spending over £50, then it's free.
You'll find that voucher code for Matalan and a whole lot more over in our voucher section.