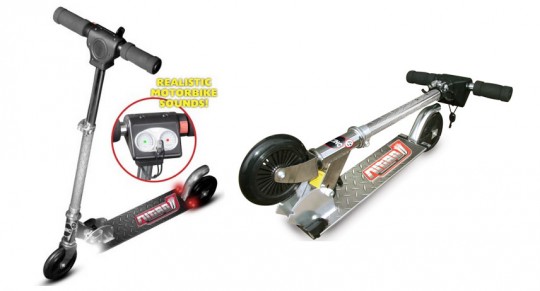 Once you get past trikes and balance bikes and parent handles, you enter a whole  new world: scooters. And as it turns out, not all scooters are made equal.
We received the Zinc Nitro scooter to review, and it's been great fun, chasing my daughter down the sidewalk. Thanks for that. (I need an adult one to go with her, obviously.) But it's one way to keep warm in this grim, grey weather.
The first thing I should tell you about this scooter is that having opened it and looked at it, I then went onto the website to see what it costs, and I was really, really surprised.
The Zinc Nitro retails at £29.99, although Amazon* currently has it for £14.99.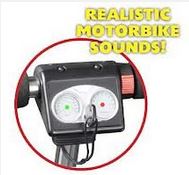 Honestly, it's such a sturdy little steel contraption, I'm not sure how that even covers costs.
The Nitro Scooter is a foldable scooter. It's steel construction gives it a firm, steady feeling, and the 120mm PVC Wheels seem strong enough to handle the job.
The scooter arrives folded, but pretty much assembled, which is wonderful when you have toddlers jumping up and down trying to get at it. You open it up and it's recommended that you use the provided allen keys to tighten the bolts prior to first use.
The electronic bits of the scooter requires 3xAAA batteries. This makes the sound and lights work.
When you start the scooter you can 'turn' the 'key' and the key start sound actually sounds pretty much like a real engine speeding up when they twist the throttle. There's also a rear brake screeching sound, which my daughter finds highly amusing and my toddler tries to mimic.
Another nice touch - surprising at the cost - are the softfoam grips, which makes for an easier time on the hands.
There are also white front and red rear lights, which aside from being pretty cool, is quite a nice safety precaution as the evenings get darker. I would like knowing my daughter is visible to drivers and other pedestrians. I say "would" because she's not really quite at the 'use it out on the road' level yet.
The handlebar height is adjustable, 73 - 85cm, which fits well with the 50kg weight limit. The recommended age for this scooter is 6+, which to be honest, I'd stick with. It's just a little too much scooter for my four year old.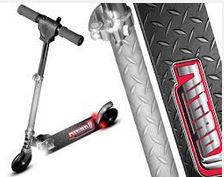 There are things that she just can't cope with yet, but I think would be great down the line. For example, to slow the scooter down, you have to lift your ground foot - the one that doesn't remain on the scooter - and press down on the pedal at the back of the scooter bit. I can see that being pretty easy and quite a comfortable way to brake, but it makes her unstable still.
In the interest of full disclosure I'll say that I don't think my daughter has put the scooter through it's paces in the same way a six-year old boy would over a period of time, so I can't say how long it will be in good condition for, but that's a variable anyway. At the price, it's hard to go wrong.
My friend's son whizzed around on it without issues and he liked that it goes a lot faster than her usual scooter which he rides on when they visit. The pair of them are quite cute too, peddling around on scooters.
The Good
I love that it was usable within a few minutes of opening the box. No issues putting it together or special equipment required.
I think it's an amazing price, especially when reduced.
It's so nice that it folds flat. I've seen so many mums leave the school gate pushing a low scooter along, or carrying it as it bang, bang, bangs into their legs. This can be folded up and put under the buggy or carried under your arm. It's not very heavy.
The Bad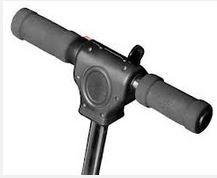 It doesn't come with batteries, which is a pain as we had to go out and get batteries especially after the fact.
The sounds become a bit annoying eventually, but fortunately you can remove the batteries to kill the sounds without ending any actual functionality. i.e the brakes still work and so on.
The Verdict
I don't have masses of scootering experience, to be fair, but I think at the price, there's just nothingwrong in this Zinc Nitro scooter. It should provide hours of fun, good exercise, and a fabulous excuse for getting outdoors. It'll look great under the Christmas tree too.