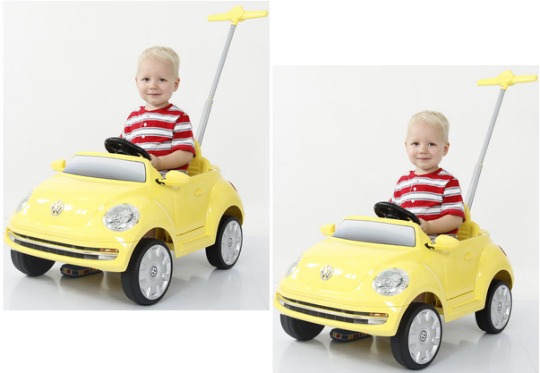 My youngest son is one soon and we were looking for things for his birthday. I spotted this VW Push Along Beetle at Toys R Us. It's only £39.96 which I think is a really good price. There was a Mini Cooper too but that was £69.99 even though it looked exactly the same sort of build. You also get FREE delivery too as it is over £30.
The VW Push Along Beetle comes in two colours BRIGHT yellow and a pretty purple. I will confess right now, when I spotted this I had to test it to see if my little lamb chop would like it and he sobbed when I took him out. These are spacious and are recommended for children aged ten months and above.
They are a nice and funky alternative to those smart trikes you see about. The parent handle isn't the best at steering but I managed to negotiate the aisle with it. There's buttons that sound the horn and make engine noises.
Baby/toddler is secured in with a three point harness so you don't have to worry about them jumping in and out.