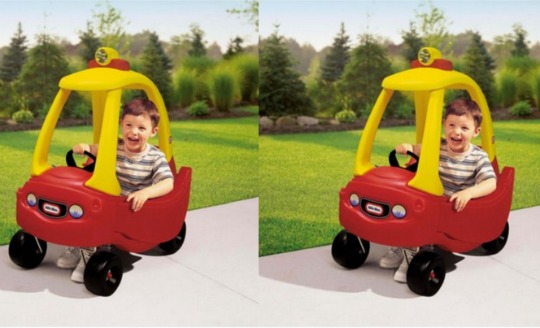 The Little Tikes Light Up Cozy Coupe is part of the Black Friday Deals Event at Studio24 today. It is selling for just £27 plus a £5 delivery charge. This is a different version from the original toy car.  I would expect the classic version to be this price on a deal but this is a light up one.
This Little Tikes Light Up Cozy Coupe has a working horn, you just know that's gonna get on your nerves, but your little one will LOVE it. It will be pressed no less than forty times a minute.
On the roof of the Cozy Coupe is a working spotlight. The door opens just like the classic version and it also has the stoare at the back for teddy or dolly to join the ride.
Batteries are required for the light and horn, but these are included. Why can't all toys come with there own batteries? This is suitable for children aged one and over.  I am tempted to snap up this bargain now, even though Daniel has a wee while to go before he is one.