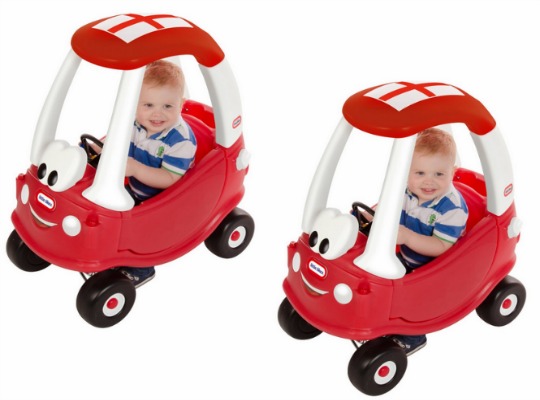 The Little Tikes Cozy Coupe is one of the most popular Ride-Ons in the shops. People love it so much that Little Tikes started releasing 'Limited Editions' of it. This Little Tikes England Cozy Coupe is one of the cheapest I have ever seen. It's just £29.85 altogether from reputable Amazon Seller raceland. It comes from Germany though, so may have a slight delay in arriving. If you would prefer to order straight from Amazon, then it's still really cheap at just £31.82 with FREE delivery included.
The Little Tikes England Cozy Coupe has all the same features of the original ride-on. The removable floor, parent handle on the back. high back seat, rear storage, ignition switch, a gas cap that can open and close and a real working horn.
It's made from that chunky plastic that makes parent love Little Tikes. You know it's not going to fall apart in a week's time. The wheels can spin 360 degrees which means it won't constantly get stuck as your child 'drives' it. It shouldn't tip either as the wheels are wide to prevent that from happening.