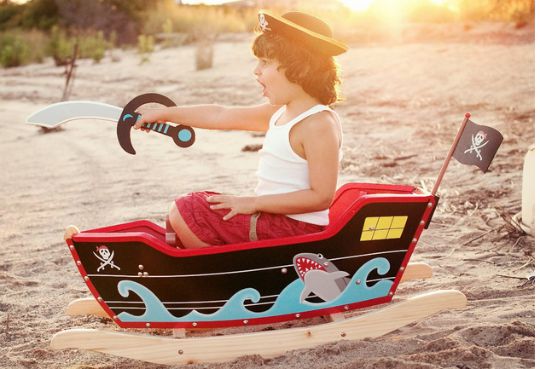 Woweeeee! This is one of the best bargains I have EVER found in my entire life! The Teamson Kids Rocking Ship with Hat, Scope and Sword is only £44 at Amazon, including FREE delivery. This is also reduced at Wayfair.co.uk from £240 to £169.99. I repeat AMAZON ARE SELLING IT FOR £44! If you are wanting something super special for a little boy or girl, then look no further.
The Teamson Kids Rocking Ship is all hand carved and hand painted and you can see why it normally sells for the £170 mark. The outside of the ship features sea and shark detailing and I can see this being utterly adored by anyone that receives it. It also features a steering wheel at the front and a pirate flag to the rear.
If this is as good quality as other Teamson items then this is something you can pass down the sibling line. Check out the two five star reviews at the bottom of the page (on Amazon).
It has a rocking base and your little one can use the accessories that come with it to pretend they are sailing the seven seas. The ship comes with a Pirate Hat, Scope and Sword.