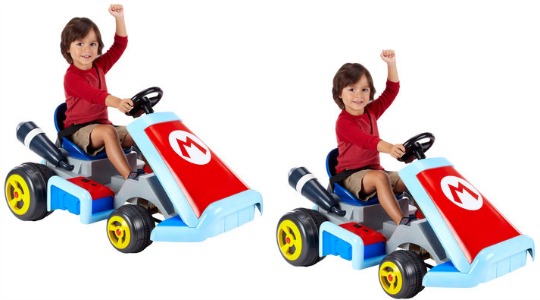 Shriek!!!! Look at this! A real life Super Mario Kart! I am too excited....I thought the Batmobile ride on was cool but this blows that well and truly out of the water. For under £100, £99.96 to be precise, you can bag your child a Super Mario Kart 6v Ride On from Toys R Us. I really want an adult size one but for now this will satisfy me.
This is a Super Mario Kart Ride On toy! I NEED it! This can drive forward or reverse, with on or off road tyres. It's driven with pedals and your little one will have amazing fun on this as you watch on with envy.
Don't panic! The kart has a seatbelt so don't worry about your child as you throw banana skins and tortoise shells at them....they won't fall out.
The Super Mario Kart comes with everything you need to charge it. This is not available for home delivery but is for Reserve and Collect from your local Toys R Us. This is a FREE service and think of the jealous faces of all the shoppers when you pick this baby up!
Thanks to Rodders89 @ HUKD