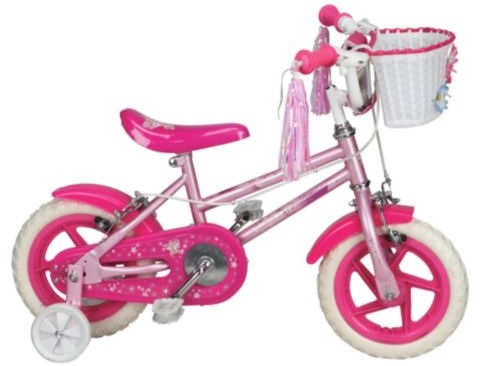 Tesco have a Sparkle & Glitz 12" Kids' Bike on offer for £40. It's reduced from £60 and standard delivery is £3, or you can pick it up for free.
This Sparkle 'n' Glitz girls' bike is an eye catching, pretty pink bike covered in glitzy stickers with pink tassels on the handlebars.
While I'm normally the first to groan when things are labelled 'for girls' or 'for boys', this very pink bike will probably be more favoured by girls wishing to explore their surroundings.
The Sparkle 'n' Glitz bike comes with an ergonomically designed 12" steel frame and fork. The frame rests on 12" Mag wheels, and the bike is brought to a stop by font and rear caliper brakes.
This bike comes with mudguards to keep spray off the back, and a pretty chain guard keeps chain oil away from clothes. A white wicker basket at the front of the bike can be used to carry toys. A cushioned saddle makes this bike a comfortable ride for your child.
Stabilisers provide stability as your child is learning to master how to ride her bike. Other safety features include crash pads, brake wire end caps and the removal of sharp edges. This bike requires a little self-assembly.