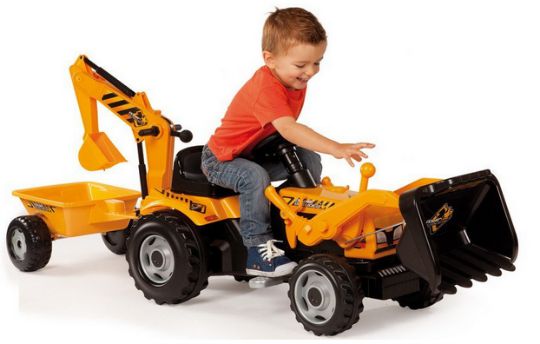 You can get some really cool ride on toys for kids these days. Check out this Smoby Tractor Builder Tricycle Pedal Ride-On. It has to be one of the most impressive digger toys I have ever laid eyes on. You can get your hands on one for just £82.99 from Amazon and that includes FREE delivery too. One to tuck away for Christmas?
The Smoby Tractor Builder Tricycle Ride-On doesn't need to be battery operated, it uses 'pedal power'. That's excessive child energy to you and me. Having an actual working, sit on digger is the stuff of dreams for a child.
This super cool Tractor ride-on boasts a shovel at the front and a functional digger to the back. There's a working horn which you will hear for non stop, no doubt, as you child digs up your flower beds.
The seat is adjustable which means it'll last your little one for longer, and at just over £80. You would want to get as much use out of it as possible.
This to me would make an ideal 'big' present for a birthday or Christmas. Imagine that little face light up when they realise that they now own their very own ride-on digger!.